Overseas travel restrictions are set to be relaxed within the next month, making it possible for UK residents to take a summer holiday without having to quarantine for two weeks upon their return.
The UK government have decided to allow holiday makers to once again offer trips abroad, giving them the full go ahead from next month. The exact locations you can travel to are yet to be confirmed, though it is expected to include the likes of France, Spain, Italy, Greece, the Netherlands, Turkey, Belgium and Germany. However, it will likely not include Portugal or Sweden.
The full list of locations will be published next week, meaning you may still get to take that trip abroad you'd planned for this year, which will undoubtedly make for a nice break from all the madness of 2020 thus far.
UK Travelling traffic lights
A new traffic light system is set t be implemented, with the aim of aiding the decision to travel to and from foreign countries. Different areas of the world will be classified as either, red, amber or green in accordance to their Coronavirus levels at that particular time. This will indicate the current prevalence of Coronavirus within particular countries, allowing people to understand if it's safe to visit them or not.
This system will be extremely important because the overall idea with the reduced travel restrictions is that people returning to the UK from their holidays will no longer have to quarantine for a two-week period. This is part of the continuing theme of lockdown restrictions being reduced, as the UK makes a serious effort of returning to a similar way of life to the one we all had before the lockdown began.
UK tourists will still have to adhere to social distancing rules when visiting other areas of Europe and the reduced travel restrictions should not be mistaken for the cancellation of social distancing. Quarantine rules are altering, but our behaviour should be trying to maintain the same high standard we achieved when first entering the initial lockdown in England.
International travel will be limited for the foreseeable future and it is currently impossible to predict a timeframe of when that could return to normal.
The lockdown effect so far
The obvious implications coronavirus has had on travelling have been huge. There are areas of the world where people simply should not travel to under any circumstances now, as the risk of catching coronavirus is too great. Italy for example, a country that many people choose as a holiday destination each year, has been marked as an area that should only be visited out of complete necessity if you're from another area of the world. China is clearly another one, but the list is now growing at a rapid rate.
This has lead to the travel and tourism industry suffering great losses in sales and cash incomings. Real Business states that, "Not only are big airlines such as British Airways and Ryan Air experiencing a drop in bookings and cancelling flights as a result, but EasyJet is even imposing a pay freeze on staff as consumer demand falls. The airline has announced that the impact of the virus will probably be felt in its annual profits. Coronavirus is even delaying the sales of major travel companies. Saga, the well-known over 50s travel group, has put the sale of one of its companies Titan Travel, (estimated to be worth 100m) on hold as the pandemic grows".
Sky News further reported on the information that Titan Travel was to be put on hold. They reported that, "The delay to the sale process, which had only recently got under way, underlines the impact that (coronavirus) COVID-19's rapid international spread is having on the tourism sector".
This also brings a level of uncertainty to customers that are looking forward to going on trips in the near future. The Manchester Evening News have said that consumers with pre-booked flights and hotels have other options at their disposal, other than simply losing out on both their holiday and their money.
The MEN writes, "The Association of British Travel Agents (Abta) said people who have paid for package holidays that are not due to begin in the next few days will have to wait to see if the situation changes. On Sunday, the Foreign and Commonwealth Office (FCO) updated its stance to advise against all but essential travel to parts of northern Italy, including Venice, Milan and Parma."
They continue, "It has been advised that anyone imminently due to visit the locations named by the FCO on a package holiday should be offered alternative arrangements by their travel provider – or a full refund if there are no other suitable options. If a tour operator refuses to comply, customers may be entitled to compensation under the Package Travel and Linked Travel Arrangements 2018 regulations".
The latest on infection rates
With information collected by the official GOV website, we are able to clearly see that the overall R rate is continuing to stay below 1, but as more businesses open and more people begin to mix together in smaller spaces than before, the infection numbers may be starting to rise once again.
The below image is taken from GOV: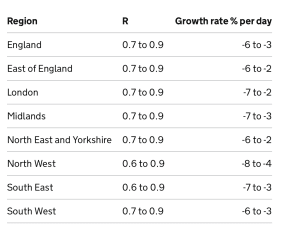 They also state that these figures were updated on June 25th 2020 and are likely to change again soon as they are able to gather more data and information that will continue to give them a clearer indication of the number of current cases within the UK.
To summarise 
The impact Coronavirus has had on businesses in the UK has been huge, though we are well and truly on the journey back to normality now. It must be considered that a second wave could put us back to square one, if it turns out our Prime Minister, Boris Johnson, has decided to reopen the vast majority of companies too early, but we shall see. The travel industry is slowly getting to grips with its losses and searching for new, unique ways of getting around the problems stemming from Covid-19.
As more businesses are able to open, we will inevitably witness larger gatherings of people, our high streets filling up at a much quicker rate and with it all, more problems. This includes the possibility of the R rate increasing once again and being hit with a second wave of Covid-19, which is the last thing we'll all want when we begin to approach the cold, dark winter months.