Being your own boss is a dream for many people. The lure of greater freedom and flexibility is hard to resist, and the idea of being in control of your own success is very appealing. However, it's important to understand that being self-employed comes with its own set of challenges.
In addition to taking responsibility for your own business, you'll also need to be disciplined about managing your time and setting boundaries between work and personal life. But if you're willing to put in the hard work, being self-employed can be an immensely rewarding experience. With the right mindset and a bit of planning, you can achieve success on your terms.
How to be your boss in 8 steps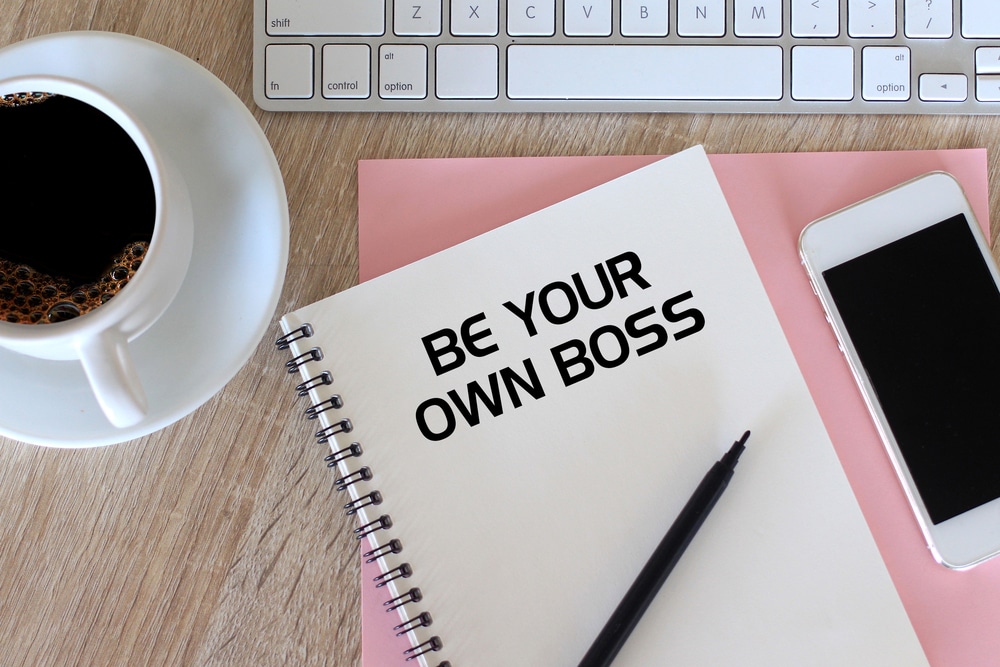 For many people, the dream of being their own boss is a strong motivator to start their own business. And while there's no guarantee of success when you strike out on your own, understanding the entrepreneurial journey ahead can help increase your chances of making your dream a reality.
Here are eight steps that can help you become your own boss:
Determine What You Want To Do
You may already have an idea or a passion that can translate into a business opportunity, but if you're unsure of what to do, there are several things that you can do to help you make a decision. Try and identify a problem or a way you can do something better. The larger the problem is, the better the chance your business will succeed. Finding a problem can include researching problems that may exist in the future or thinking of ways to make people's lives easier.
Once you have found a problem and research potential solutions, this will help you to create a product or service that meets the needs of your target market. It is also important to consider whether there is a demand for your product or service. To determine this, you can conduct market research through surveys and interviews. Finally, it is important to develop a business plan. This document will outline your business goals and objectives, as well as your marketing and financial strategies. By taking the time to develop a well-rounded business plan, you increase your chances of success. So, if you're stuck and don't know where to begin, remember to start by finding a problem worth solving.
Validate Your Idea And Find Your Market
When starting a business, it is essential to have a clear idea of who your target market is. This ensures that you are able to create a marketing strategy that is specifically tailored to reach your target audience. There are many ways to define your target market, but some common factors include age, location, gender, interests, and income level.
Once you have a good understanding of who your target market is, you can start to develop a plan for how to reach them. This may involve creating specific marketing materials or selecting the right channels for advertising. Whatever the case may be, taking the time to identify your target market is one of the most important steps in starting a successful business.
Use these tips to help find your market:
Compose a customer profile: Conducting market research is an important step for any business, large or small. One way to conduct market research is by forming a profile of your ideal customer. This involves creating a detailed description of your target customer, including information such as age, gender, location, occupation, and interests. This type of market research can be extremely helpful in identifying your target market and understanding what needs and wants they have.
Research your competitors: Before promoting your business, ideas you need to know who your competition is. Researching your competitors will help you to understand their strengths and weaknesses, as well as their marketing strategies. This will give you a better chance of developing a successful marketing campaign that targets your specific niche. When compiling a list of other companies offering similar products or services, including their website addresses, social media handles, and contact information.
Conduct a customer survey: Conducting a customer survey is another great way to learn more about your market. By compiling a list of people who meet your customer profile and ask them about their needs and expectations, you can better understand what your target market is looking for. This information can then be used to improve your product or service offering, ensuring that you are meeting your customers' needs. Additionally, surveys can help you identify gaps in the market, allowing you to capitalize on unmet demand.
Determine the size of your market and its possible revenue: How much revenue can your business realistically generate? To answer this question, you'll need to understand both the size of your potential customer base and the typical spending patterns of your target market. There are several ways to determine the size of your market. One common method is to look at census data to get a sense of the population within your target geography. You can also research the number of businesses in your industry and estimate what percentage of them might be potential customers.
Analyze Your Strengths And Weaknesses
Before taking the plunge into self-employment, it's important to ask yourself whether you have what it takes to be your own boss. First, consider your strengths and skills. What makes you successful in a professional setting? Are you organized and efficient? Do you have a knack for sales or marketing? Consider how these strengths can help you succeed as a business owner.
It's also important to consider any limitations you may have. Do you have difficulty handling finances? Are you prone to procrastination? By honestly assessing your weaknesses, you can develop a plan to overcome them. Finally, remember that owning your own business is not a 9-5 job. You will need to be prepared to work long hours and make sacrifices in other areas of your life. But if you're willing to put in the hard work, self-employment can be an immensely rewarding experience.
Running a business is no easy task. It requires self-discipline and time management skills, which can be difficult for some people who may not have these qualities naturally inclined to them or developed over years of practice in certain areas like running your own company with all its challenges–evaluate what you're good at so that it helps determine where best fit into this equation!
Plan The Transition
There are many different ways to start your own business, but you must plan what will be best for you. If you are currently employed or studying at university, then a slow transition may work well with this type of situation – don't let fear get in the way. You could also potentially rely too heavily on securing another job before fully investing time into pursuing your dream of being your boss, which can have disadvantages when suddenly left without any income whatsoever; set pre-determined dates marking key points throughout these processes, so there won't ever need to worry about being left wondering "what if…?
Regardless at the rate you wish to transition into your new role, it's essential that you have a plan in place for your exit from your current situation; steps will need to be taken to ensure yourself the most success and financial security. Some of these steps can include:
Calculating your living costs: You will need to take an honest look at your budget and make sure that it is possible for the money being spent every month can cover items such as rent, transport, food, utilities, and personal spending.
Developing a budget: Making simple steps, such as not eating out a few times a week, can increase your buffer within your saving.
Acquiring more training: If your full-time role is an employed member of staff, take the time to earn as much relevant training and knowledge as possible.
Assess Your Business's Financial Needs
Financing a business is one of the most important aspects of ensuring its success. Without proper financial planning, businesses can quickly find themselves in hot water, struggling to make ends meet and stay afloat. To avoid this, it is crucial to have a detailed plan for all stages of the business, from start-up costs to ongoing operation costs.
This includes expenses like rent for a shop or warehouse, merchandise purchasing, and technological needs. The amount of money needed to start and sustain your business depends on the size and type of business. However, with careful planning and budgeting, any business can be successful.
Here are a few factors to consider:
Selling or producing a service: If you have a physical product that you plan to sell, you'll need to invest in inventory, branding, and marketing. However, if you're selling an intangible service, your start-up costs are likely to be much lower. You won't need to invest in inventory or physical branding materials. Instead, you'll just need to focus on creating a strong online presence and ensuring that your marketing materials are professional and polished. Of course, even if you're selling a service, there may still be some start-up costs involved.
Selling or producing a physical product: When selling or producing a physical product, your starting capital is likely to cover inventory costs, renting for retail space, and potentially hiring key roles. For example, if you plan to sell your products online, you will need to factor in the cost of shipping and handling. In addition, you may need to rent storage space to keep your inventory. If you are selling products in a brick-and-mortar store, you will need to factor in the cost of rent and utilities.
Inventing a product or new method: Inventing a new product or method can be an exciting and rewarding process, but it is important to consider the costs associated with protecting your ideas. In many cases, a patent is the best way to ensure that your invention cannot be copied or used without your permission.
Learn About Running A Business
Before starting any business, it is extremely important to research and gain as much knowledge about business management as possible. One great way to increase your understanding of the subject is to take online courses.
These courses can keep you informed about changes in the business world, teach you marketing and management strategies, and help you discover your funding options. Additionally, they can also help with self-improvement. Another excellent way to learn more about business management is to consult with professionals, such as certified chartered accountants or solicitors.
They can provide invaluable guidance during the start-up phase of your business. By increasing your knowledge of business management, you will be setting yourself up for success.
Develop Your Business Identity
Developing your business identity is one of the most important aspects of starting your own company. Your brand is your company's reputation, and it's influenced by how you present your company to customers.
You must determine how you want to represent the brand through your company logo and name. Are you going for a more corporate look, or are you trying to appeal to a more hipster audience? Once you've determined the target market for your business, you can start developing the look and feel of your brand accordingly.
Naming a business is no small task- it's a crucial part of the branding and can have long-term implications for your company. When choosing a name, try to find something that is reflective of your company's values and mission. It's also important to make sure the name is available- you can check online to see if there are any similar businesses with the same or similar names.
Once you've found the perfect name, don't forget to purchase the corresponding domain for your future website. If you take the time to develop a strong brand identity from the start, it will pay off in the long run. By taking these steps, you'll be well on your way to building a strong brand for your business.
Register Your Business And Take The Final Step
Registering your business is the final step in making it official. HMRC can guide you through this process, including how to register and which steps you're to complete while running your business. Registering as a sole trader is required to run your business.
This type of registration involves providing HMRC with your business name, contact information, and financial details. In return, you will receive a Unique Taxpayer Reference (UTR), which you will need to use when filing your taxes. Registering as a sole trader is a simple process that can be completed online or by mail. Once registered, you will need to complete several ongoing steps to maintain your registration, such as keeping accurate records and filing your taxes on time.
In addition to producing high-quality products or services, you must keep track of your finances and stay up-to-date with the latest tax laws. Promoting your business is also essential for attracting new customers and keeping your existing ones. There are many different ways to do this, including creating a website, printing business cards, networking, and investing in advertising.
By taking the time to understand the legalities and promoting your business effectively, you can set yourself up for success and keep yourself on the right side of the law; this will ensure that it is operating legally and smoothly.